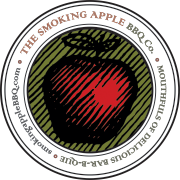 LET US CATER YOUR NEXT BIG EVENT!
At The Smoking Apple, we do our best to make sure your catering event runs smooth and just the way you want. We have so many different options to fit your needs. Please fill out the request form for a quote. All requests will be responded to within 24hrs. via email. If you don't receive an email after submitting a request, please check your spam folder. Thank you for choosing the Smoking Apple BBQ, we look forward to serving you!
Before you request a catering please read our
SIDES SERVING SIZE DISCLAIMER!